Feeding the hungry is not a crime.



Sign the Dream Center's petition on change.org against this nonsense HERE
There is another petition HERE which is getting less traction, but why not sign both?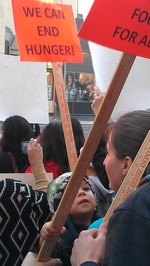 Tom LaBonge and Mitch O'Farrell want to make it illegal to give food away on the streets of Los Angeles. They are shameless enough to say explicitly that it will still be OK to sell food. Just giving it away will become illegal. It's almost like they don't know what the word "public" means. Public streets are for eating on, among other things. They are also for people showing their love for one another by sharing food. People with or without housing who live in this city are equally human and they are equally citizens. The streets belong to everyone.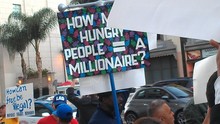 They are supported in this by Richard Bloom, who, not content with having turned Santa Monica into a paradise for squeamish zillionaires who want to be able to walk from their limos to their gracious dining establishments without having to step over starving sick people on the sidewalk, has lent his purely gratuitous support to the machinations of LaBonge and O'Farrell.
The issue is this: The Greater West Hollywood Food Coalition feeds a couple hundred homeless people every night at the corner of Romaine and Sycamore on the Western edge of Hollywood. They've been doing this for decades. This was formerly a run-down industrial area, but, as always, the forces of development and greed are waxing fat and now the Hollywood Media Business Improvement District wants to build multi-use developments in the area and make sure that squeamish zillionaires can walk from their limos to their gracious dining establishments without having to step over starving sick people on the sidewalk just like they get to do in Santa Monica. The BID therefore went to their pet councildudes, O'Farrell and LaBonge, and got them to propose this motion to illegalize the homeless. The BID natters on about how they just want to help the food coalition be responsible, but they're lying through their teeth.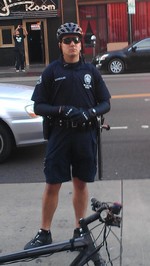 You can read the motion and the public comments on it at the the City Clerk's website. Richard Bloom's cowardly and idiotic letter of support can also be read here. He's an expert on the homeless because they got a lot of them in Santa Monica and he was mayor there for a long time. Extra credit problem: Which two classical rhetorical fallacies are embodied in this claim?

You can read Mitch O'Farrell lying about the matter here. He says he doesn't want to ban outdoor feeding of homeless people, he just wants to make it easier to feed them indoors. News Flash: It's already easy to feed them indoors. They also need to be fed outdoors. Mitch O'Farrell doesn't even have the courage of his creepy convictions. According to him, he doesn't support the motion, he just signed it to help it go through the process because two signatures are required. Even his mother doesn't believe that one.

You can give money to these organizations or volunteer with them:
The Greater West Hollywood Food Coalition
The Monday Night Mission

You can email LaBonge, O'Farrell, and Bloom and tell them off in no uncertain terms:
Richard Bloom
Mitch O'Farrell
Tom LaBonge
Find your own councilmember here and write to them.

You can probably think of lots of other things to do and do them! If you have good ideas you want to share on this website, send them to us here via the email address below.

Other perspectives and information:
MichaelKohlhaas.org — A blog about the Hollywood area Business Improvement Districts, the secret force behind this kind of nonsense as well as indefatigable hasslers of the homeless. Confusion to our enemies!
LA Dream Center Hopes to Retract City Council Motion That Could Ban Public Homeless Feeding (Christian Post article on change.org petition started by Dream Center 12/20/13)
LA Dream Center asks for help (Dream Center blog post on change.org petition 12/19/13)
Business interests at the heart of petition to ban food lines (L.A. Activist article 12/16/13)
Hundreds Gather To Protest Motion To Keep People From Publicly Feeding The Homeless (CBS 12/14/13)
Ban the Buzz, Not Pop-Up Food Distribution Events (Shorter Mitch O'Farrell: I'm a liar. 12/13/13)
Letters: How to feed Hollywood's homeless (Letters to L.A. times responding to editorial of 12/6, 12/10/13)
Sorry, neighbors, but the homeless need the 'public feedings' (L.A. Times editorial opposing LaBonge and O'Farrell 12/6/13)
General Jeff's Commentary on LA City Tom LaBonge's motion to ban homeless feedings (Yay General Jeff! 12/4/13)
Stop treating the homeless like animals (Eli Federman in The Daily Caller 12/3/13)
Should We Kill the Poor or Eat the Poor? (Odysseus Bostick in City Watch 12/3/13)
Los Angeles Considering Proposal To Ban Feeding Homeless People In Public (Think Progress 12/2/13)
This Thanksgiving LA's Homeless are on the Move (Joseph Mailander in City Watch 11/28/13)
Los Angeles considering proposal to ban feeding homeless people in public (MSNBC 11/27/13)
Which Way, L.A.? (KCRW radio show featuring Ted Landreth of the GWHFC 11/26/13)
As Homeless Line Up for Food, Los Angeles Weighs Restrictions (New York Times 11/26/13)
---
Coming soon: There are businesses in the BID who support the food coalition. We plan to provide a list of them here so you can express your appreciation. We also plan to list the businesses who are attacking the food coalition so you can express your contempt.
---
If you'd like to suggest more organizations for the good-people list or more creeps for the tell-them-off list or if you have anything else you'd like to share with us, email info (at) cahuengablvd (dot) org
---